"Life is Easy.  Why do we make it so hard?"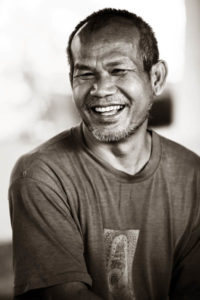 Farmer,  earthen builder,  seed saver,  teacher.  Philosopher,  father, and community activist. Jon Jandai continuously strives to find more ways communities can be self-reliant and people can come back to connecting with the land and each other.

His philosophy is that life is simple and works to connect people to understanding this themselves and ways to achieve it.
"We were taught to disconnect ourselves from everything else, to be independent, so we can rely on money only, we don't need to rely on each other. But now, to be happy, we need to come back,
to connect to ourselves again, to connect to other people."
Follow Jon's Youtube channel to way to keep in touch with the latest ideas and projects that Jon is involved in at the moment. 
These include talks on various topics including how-to videos on self-reliant ways to make life easy, as well as how to see your life in a different way.
Check out Jons' newest released books
Jon's written books on several of the topics he teaches including earthen building, sustainable living, regenerative agriculture, learning to live with love and compassion, and an easy way of parenting. These are all being translated to English at the moment and released.  Click here to find out how to get them.